In 1935, small format cameras such as Leica and Contax were becoming quite popular. Young Fred Simmon believed that there was a market for a domestic enlarger to compete with the Leica. He enlisted his two older brothers, Rudolph and Alfred, to join him in a venture to produce a new enlarger.
Alfred was then employed as an engineer with Westinghouse, and did the design work of the enlarger at night and on weekends. Simmon Bros. first enlargers were ready to sell in the spring of 1936. The initial product was quite ambitious - a 35mm enlarger, complete with adjustable 8x10 easel, safelight, timer, and magnifier for focusing, that folded up into a compact carrying case. Looking for a trademark for their products, they felt the Greek letter Omega sounded good and would make a suitable logo, and registered it with the Patent Office.
That first enlarger, called "The Complete Enlarger," proved to be a little too ambitious, as they found they were losing money on each unit they sold, and quickly set about to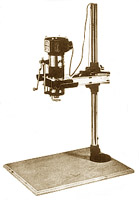 design a less complicated, lower priced unit. In 1937, they introduced the "Omega B" enlarger, which accepted negatives up to 2¼"x2¼". Priced at $65.00 without lens, it gained immediate acceptance with dealers and customers, thus assuring the success of the young company.
In 1938, a 35mm enlarger, the "Model A," based on the design of the "Model B," was added to the line. By that time, Alfred had been able to leave Westinghouse and join his brothers as an equal partner in the firm.
1939 proved to be another pivotal year for Simmon Bros. In August of that year, Kodak announced their forthcoming 2¼x3¼ "Precision Enlarger," which boasted more features and accessories than the "Omega B." The brothers feared that the new enlarger, backed by Kodak's huge marketing and promotional resources, would put them out of business. With a massive effort, they designed and built the "Super Omega B" enlarger in just three months. It debuted only a few weeks after Kodak's initial shipments, and sold well enough that Kodak dropped the "Precision Enlarger" after several years.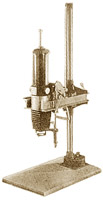 In that era, Speed Graphic cameras, using 4"x5" film were the news photographers camera of choice. It was logical, therefore, for Omega to have an enlarger that would accommodate this film size, so the "Model D" was also introduced in 1939, followed by the famous D-II just two years later.
During World War II, production of enlargers for civilian use was prohibited, so the future of their 20 employees was in doubt. The company managed to secure contracts with the Army Signal Corp, which helped, but did not fully occupy the workforce. They then approached and were welcomed by the U.S. Navy to produce 5"x5", 7"x7" and 10"x10" enlargers. Additionally, the company was commissioned to design a 2¼"x3¼" pack film camera to meet Navy requirements for combat conditions. The experience gained on this project eventually led to the production of what became the Rapid-Omega roll film camera, which introduced the 6x7cm format.
The Simmon Bros. factory was in an ideal position to quickly resume production of consumer enlargers after the war, and found that the largest market was now for 4x5 enlargers, primarily due to returning GIs who had worked in military darkrooms.
The Omega factory continued to thrive during the 1950's, introducing the A2, a series of "B" enlargers, including autofocus versions, an improved D2, the autofocus D3, 5x7 and 8x10 models, and Chromega colorheads. By the 1960's Rudolph and Alfred were in their '60s, and the brothers looked to assure the future of Omega. In 1964, therefore, Simmon-Omega became a division of Berkey Photo.
It was during this period that the company benefited from a major boom in interest in photography. The 35mm SLR, with built-in metering systems simplified the process of achieving quality photographs and widened the appeal of photography as a hobby. Later on the introduction of colorhead enlargers and color processing drums enabled anyone to conveniently process their own color enlargements in home darkrooms. As a result, the sales of darkroom equipment skyrocketed as well. This enabled Omega to introduce a number of new models during the 1970's and early 80's, including the D5, C67, B66, B600, C760 and D5500.
Inevitably there was a downturn. The introduction of one-hour photo labs, video cameras, point-and-shoot 35mm cameras, and eventually, digital photography, all have had a negative effect on enlarger sales. The darkroom market overall declined as hobbyists turned to other interests. In the late 1980s, Berkey Photo experienced financial difficulties and went into bankruptcy. Omega was subsequently purchased by the RT Corporation to become RT/Omega. There were more changes as the company attempted to deal with the changing market. It became Omega International, then, with the acquisition of Arkay Corp., Omega/Arkay. During this era, the company engineered proposed new 4x5 enlargers with electronic autofocus systems, and a new, less expensive 10x10 enlarger. Prototypes were built, but in the end these projects were abandoned as not commercially viable, so ultimately there were no new enlarger models introduced subsequent to the Berkey period.
In 1995, Arkay was sold back to its previous owners, and Omega purchased the Satter Corporation to form Omega/Satter. The demand for new enlargers continued to decline into the new millennium as OmegaSatter were expanding the other side of their business, the distribution of photographic accessories. OmegaSatter acquired Brandess/Kalt in 2010 to become the current company, Omega/Brandess. As the enlarger market continued to shrink, eventually the decision was made, and quietly, without any formal announcement, and after more than 75 years, production of Omega enlargers was halted.
While the Simmon brothers are long gone, their legacy survives in the thousands of Omega enlargers still in use today.