EIGHT BLADED DIAPHRAGMS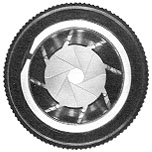 All Omicron-EL lenses feature eight precision diaphragm blades, producing unsurpassed linearity of light trans- mission, vital for professional print quality. Pin-point detents at click stops permit easy "nulling" with analyzers, at mid-aperture settings for precise ex- posure. On 105mm and 135mm lenses apertures down to f/45 may be selected. This is a significant advantage when printing at small magnifications, or with exceptionally thin negatives.

MECHANICAL CONSTRUCTION
All Omicron-EL lenses have a standard Leica-type 39mm screw mount, and front threading for 40.5mm lens ac- cessories. Two engraved aperture scales permit full visibility at any orientation on the lens mount or board.
Relatively short back-focus design (flange-to-film distance) permits con- venient use in turret mount enlargers, such as the Omega and Super Chromega Dichroic D-6.
Sturdy metal barrels are precision- machined and assembled, and have a satin optical black finish with large white f/stop numerals. Each lens is supplied with a mounting ring for lens installations on unthreaded lensboards.
OPTIMUM MAGNIFICATIONS
Every precision enlarging lens is com- puted to perform optimally at a specific range of magnifications. The Omicron- EL 50mm f/2.8 is designed for 2x to 20x magnifications; the 75mm f/4.5, 90mm f/5.6, 105mm f/5.6 and 135mm f5.6 are designed for 2x to 10x mag-nifications.
WORKING APERTURES
All Omicron-EL lenses may be used at all apertures. However, the extra fast aperture of the 50mm f/2.8 is recom- mended for focusing, with f/4 or smaller aperture used for the exposure.