Beseler is pleased to offer a series of enlarging lenses designed to comp- lement the finest camera optics. They are not simply very good lenses - they represent the absolute state of the art in premium quality enlarging optics.
THE REQUIREMENTS
The first quality most photographers look for in an enlarging lens is sharpness. To an optical designer, sharpness is actually the sum of two equally important factors: resolution and contrast.
An enlarging lens should also have two qualities very different from what you'd look for in a camera lens. It should be optimized for use at relatively close working distances, and have a flat field to insure edge to edge sharpness of the projected image.
Naturally, a fast lens is also desirable to make focusing easier and to keep exposures short. Color correction is another must. All colors must be focused in the same plane or color fringing and loss of sharpness can result.

In short, an enlarging lens should have superb resolution and contrast, a magnification range which matches the film format for which it's intended, a flat field and critical correction of chromatic aberrations. And, of course, these qualities should be as even as possible, corner-to-corner.
Based on years of experience, and using the very latest optical glass formulations, coating techniques and computer design programs, Beseler ColorPro lenses match or exceed any other enlarging lens anywhere, in every department.
QUALITY ENGINEERING
ColorPro lenses are of a very special quality, in both optical and mechanical terms, human engineered for ease of use. For example, ColorPro lenses use eight diaphragm blades, so the aperture is more nearly circular compared to lenses that use only three or six blades.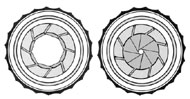 The aperture ring is rubberized for a sure grip (but it's metal underneath), and Beseler maintains strict control of the rotational force required to adjust the aperture, so the lens operates smoothly throughout the entire range.
Aperture numbers are exceptionally large and easy to read. Every part is sturdy, well made, precisely ma- chined for a lifetime of service. Optically the lenses are hand as- sembled, each element individually centered and checked for a precisely aligned optical axis.
For the greatest convenience, all Beseler ColorPro lenses have stan- dard 39mm Leica mounting threads, and 40.5mm front accessory threads.
OPTIMUM MAGNIFICATIONS
Any lens is designed with an "optimum conjugate"... a magnification factor at which the lens performs at it's very best. That factor is somewhere in the middle of a range in which the lens produces excellent results. ColorPro lenses are designed to work best at the magnifications you're most likely to use. - and that varies with each lens. For example, the 50mm f/2.8 ColorPro, which is ideal for 35mm negatives, has an optimum conjugate of 8X, which would produce a slightly cropped 8x10 print. The magnification range of this lens is from 2X to 20X. The other lenses, which are for larger negatives and transparencies, have 5X optimums, with 2X to 10X ranges.
WHICH LENS?
The focal length of the lens that's best for any given negative or transparency format is generally similar to what would be the "normal" camera lens for that format. For example, 50mm lenses for the 35mm format, 75mm lenses for 2¼ square. These are the focal lengths which deliver the greatest possible degree of magnification.
Beseler ColorPro lenses are made in a wide variety of focal lengths so you can always have exactly the right lens for any film format.
| | |
| --- | --- |
| Beseler ColorPro Lenses | Film Format |
| 50mm f2.8 | 35mm |
| 75mm f4.5 | 6 x 6cm |
| 90mm f5.6 | 6 x 7cm |
| 105mm f5.6 | 6 x 9cm |
| 135mm f5.6 | 4 x 5 |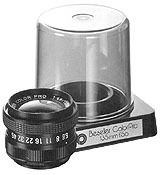 © 1979 BPM